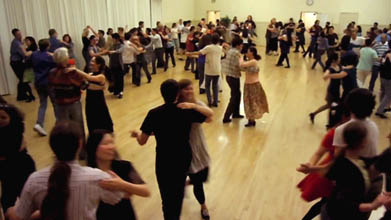 Do It Yourself!
Suggestions for starting your own dance group




This isn't as difficult as it might seem. Here are some suggestions for starting a local waltz or social dance scene.
This page supplements the shorter version in the book.

Venues


You'll probably begin by looking for a place to hold your dances. You will want a space that is conveniently located and has a friendly, welcoming atmosphere. Avoid a room with support posts that dancers can run into.


You'll also want an affordable space because you'll probably start small, before word-of-mouth grows, and you don't want to lose money on high rent right at the beginning.

1) Churches are often a good choice. Some churches rent out a large room, but better yet, many churches sponsor groups that they feel are a benefit to the community. In particular, United Methodist and Unitarian churches often have prioritized community interaction.

Show them this book, to help explain the many ways that a social dance group will be good for the community, and also for the personal growth of the participants. Show them chapters like "Love Thy Neighbor," "Giving," and "The Third Place."

2) Lodges and fraternal organizations tend to have great spaces for dancing, often on the top floor of a downtown building (top floors usually don't have posts). These include the Odd Fellows (IOOF), Elks, Eagles, Shriners, Masonic groups, Lions and local Womens' Clubs. As above, they may sponsor a group that they feel is compatible with their mission or will benefit the community.

3) Dance studios are sometimes affordable, and if so, may be a good place to start because they tend to be small.

4) Local parks and recreations departments often have halls available for rent or possible co-sponsorship with local instructors.

5) YMCA and YWCA groups usually have gym or dance rooms available for charter.

6) Check local ethnic halls. Finnish, Norwegian, Portuguese, Spanish, Irish, Italian, German, Brazilian, Jewish and Italian organizations often have halls available for rent.

7) Local community or junior colleges may have dance halls that they rent out.

8) A good source for larger event locations is Here Comes the Guide. This was originally intended for weddings, but has a good listing of larger danceable halls.

Starting small
Avoid starting out in a large hall. A dozen dancers in a large room will feel unsuccessful, as if no one came. The same dozen in a smaller room will feel full and successful, in a nicely intimate way, like a small party. Then you can move to a larger space when the group grows.


If you're wondering how many dancers fit into a room, we've found that 0.025 dancers per square foot works best for a class. More can fit into a room for a dance party or ball.


Crossover from other dance groups


Let other dancers in your area know about your new group. We're not necessarily advocating poaching dancers away from other groups, but dancers love more options, and it's significantly easier to attract people who already dance than encourage non-dancers to begin.


We suggest setting up friendly meetings with the organizers of other local dance groups, letting them know of your plans and asking for their support. We have found that most dance groups support others groups, but even if they don't, the courtesy of this introductory meeting will usually prevent an adversarial situation.


Music and sound systems


There are many options for sound systems, but the bottom line is that you will want high-quality speakers, a good amplifier and a mixer, to mix together the music, perhaps from several different players, and microphones. High quality sound is essential to the success of a dance. Avoid using a boom box, or the old-fashioned amps with a speaker in the lid. If you need to bring in your own sound system each time, there are several hi-tech lightweight speaker systems. Just make sure it won't distort the sound at higher volumes.


You will probably also want a wireless microphone. We recommend a headset mike for teaching, and a hand-held mike for making announcements. But a mike on a cord is also fine for announcements. Again, there are many good options, including Shure and Samson.


A new dance producer is advised to check out any local curfews for halls that use amplified music.


Social area


Most dances can be considered as a social event with dancing attached. To that end, having a social area with chairs, sofas and couches will go a long ways making your event a success. Few people want to dance every dance - many would like to socialize, network and get to know other people. A social room can be a great addition to your dance.


ASCAP and BMI licenses


We suggest that new dance event producers get ASCAP (American Society of Composers, Authors and Publishers) and BMI (Broadcast Music, Inc) licenses. These groups represent the authors, publishers, performers of music and collect annual royalties on behalf of their members. But also check to see if the venue that you're using already pays ASCAP and BMI. For instance, colleges or a YMCA might be already paying for these licences because of jazzercise programs they are currently running, and this will then cover your group as well.


Event insurance


For dance events with no alcohol content and have a 'club' type organization, the best (and quite affordable) source for insurance is the Country Dance and Song Society.


For dance events with alcohol, significant number of live performances or weekend workshops, we suggest Markel Insurance.


For instructors who just teach and do not have actual dances, we suggest K&K Insurance.


Publicity


Become familiar with Google Groups, Facebook, Twitter and other social media for no-cost promotion. Facebook is the easiest event listing service. There also may be local event listing websites. For instance, in the SF Bay Area, there is Zvents.com, Eventful.com and Artsopolis.


You may also want to make printed promotional materials. The three basic forms are business cards, printed (photocopied) 8 1/2 x 11 flyers, and club cards, which are typically 3x5, 4x6 and occasionally 5x7 color double-sided printed cards. They are ubiquitous. Most bookstores, recycled clothing stores, thrift stores, laundromats, music shops, newspaper stands and other dance events have tables reserved for club cards. Club cards usually stand out. Many printers charge about 5 cents per 4x6 double-sided 4-color card in 2,000-plus quantity. Here is one possible printer, and you can find many others.


Mailing lists


Compile your own private email list. This is vitally important for growth.


Best nights of the week


Typical best days for a dance, depending on alternative competing dance events, is Saturday, Friday, Wednesday, Tuesday, Sunday, Thursday, then Monday, in that order. Thursday and Mondays tend to be difficult days for a new group, but they're also the cheapest rent days. If you have a unique event with a pre-existing core group, then Thursdays can work quite well.


Event Themes


Themes can be a good way to draw back occasional attendees: New Year's Eve, Christmas Holiday, July 4th, Labor Day Weekend, Memorial Day weekend, Thanksgiving, Mothers Day, Prom Night, Graduation night, Octoberfest, Sadie Hawkins Day and Valentine's Day. You can have a Full Moon Ball, or themes for Winter Solstice, Summer Solstice, Autumn Equinox, Spring Equinox or a solar eclipse. Some dances have special attire: Hawaiian shirt dance, 1950s rock'n'roll, 70s disco, black-and-white or an all-white-attire dance. Many local communities have a Founders Day or special art and wine festivals. If a well-publicized movie has a dance or music theme and is opening near your dance day, you can use that as a special theme. Some people used the Great Gatsby movie opening as an theme for a flapper or swing dance. The BBC series Downton Abbey inspired some vintage dance events.



We thank Scott Gamble for providing much of this information.